Shopping Cart
Your Cart is Empty
Thank you for your business!
You should be receiving an order confirmation from Paypal shortly.
Exit Shopping Cart
Scratch & Help Fundraiser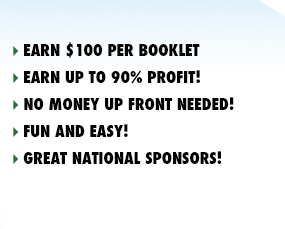 Each member of your fundraising group receives a customized Scratch & Help® fundraising booklet with your group's name and logo. The fundraising booklet has 50 scratch off circles with hidden donation amounts ranging from $.50 to $3.00 in easy to add increments of 25 cents. (i.e. $0.50, $0.75, $1.00, $1.25 etc...)
Your fundraising members approach friends, family and neighbors asking them to scratch two or more circles for their donation amount. In return, the donor receives a sheet of valuable coupons from our sponsors (10 coupons per sheet) as a 'thank you' for their fundraising contribution. Each booklet contains 30 sheets of coupons, normally only 25 sheets will be used, but there's 5 extra sheets if needed. Your group member then takes the booklet and continues asking other people to scratch and donate until it is completely uncovered. Once all circles have been scratched off, the fundraising booklet produces $100 in donations.
Scratch & Help® Profit Chart
*Each scratch card produces $100.00 in donations when selling out all 25 coupon sheets in your scratch card. You keep 80.00 Per booklet or 80% Profit! Total net profit of 90% includes selling out all 25 coupons in the additional 10% free booklets that you will automatically receive with your order. This brings your total net profit to 90% (80% + 10% Free = 90% Profit!) We suggest ordering 1 Scratch & Help® booklet per group member. Enter the number of members in your group into the profit chart below to figure out your potential net profit.
Frequently Asked Questions
Q: Do we have to pay anything before we start our fundraiser?
A: No, There is No Money Up Front needed to start your fundraiser.
We offer 3 options to pay:
We can hold your check for 30 days before cashing it (We take the check info by phone or Fax)

A purchase order from a Public School or State Run Organization - billed in 30 days.

Any major credit card (Receive an extra 10% FREE booklets - 20% total free booklets). This gives you plenty of time to collect the money before getting a bill from your credit card company. (Charged at purchase time)
*20% Free is for payment with a credit card - If paying up front with a check receive 15% Free booklets. A $20 processing fee may apply to checks held for 30 days.
For a more detailed description of our "No Money Up Front" payment options
Q: How much does each booklet cost?
A: Each booklet costs $20.00 and raises $100.00. You Keep $80 per booklet!***You Get an additional 10% FREE booklets on your first order for a total of 90% Profit ( 80% + 10% = 90% Profit!) Or pay up front and receive 20% FREE booklets to maximize your profit.
Q: Can we return some booklets if we don't finish them all?
A: Yes, you may return 10% if they are unscratched (within 30 Days). Free booklets cannot be returned for credit.
Q: Can we change the coupons, because some of the sponsors are not in our area?
A: Yes, you can choose to double up on the coupons that you do have in your area, or choose to substitute local merchants. *A $30 fee may apply for custom coupon changes. For More info contact your local ABC Fundraising® distributor.
1. Bring the Local Merchant Agreement to the local merchant(s) of your choosing or we could do this step for you as well. Ask for the owner or manager of the store.

2. Explain who you are and why you are raising money. Show the merchant the form and product flyer and ask the him/her to help your organization by providing a coupon offer that can be substituted for one of the National Sponsor's coupon. (Since the local merchant is not charged for their participation and receives FREE advertising through your fundraiser, almost anyone you ask will be happy to give you a coupon offer).

3. Fill out the Local Merchant Agreement. When you call us to place your order you will be asked to fax the merchant agreement and we will begin printing the coupon(s) for your fundraiser. You should have your Spinners® approximately one week later.

Cost: Only $30 Total (Not $30 per booklet) The cost for our custom coupon package is only $30 regardless of how many booklets you order or how many coupon changes you make. This is a one time printing setup charge and will be added to your total.

Example: with 30 booklets (30 booklets x $20 per booklet = $600.00) Custom coupon charge = $30 Total = $630 (this includes shipping and handling)

NOTE: You can combine our nationwide coupons with your own local coupons and you may double or triple any of our nationwide coupons. The cost for any combination is still only $30.00.

This $30 custom coupon fee must be paid at the time you place your order with a credit card or check by phone.

Custom Coupons will be printed in black ink on yellow paper.




The minimum order for custom coupons is 10 Scratch Cards.




Q: Can the coupons be used outside of my local area?

A: Yes, the coupons we provide can be used in your entire state. If you choose to add local merchants, those coupons may only be used at the store on the coupon.




Q: How Many Scratch Dots are on each booklet?

A: There are 50 scratch dots ranging from .50 to $3.00. Receive 1 coupon for every 2 boxes scratched.




Q: How long does it take to get the booklets?

A: Your booklets should arrive within 1 week. Rush delivery is available.




Q: How long should I run my fundraiser?

A: We suggest running your fundraiser for 2-3 weeks.




Q: What is the minimum number of booklets I can order?

A: There is no minimum order. If you want your logo on the booklets we require a minimum of 10. Orders under 10 must be paid for up front with a credit card or money order.




Q: Why is there only one coupon sheet in my booklet?

A: Sample booklets only contain 1 sheet so you can see who our sponsors are. Your actual booklets will contain 30 full coupon sheets! One full coupon sheet for every two dots scratched plus five extra sheets as our gift to you!




Q: Do I need to be part of a group or a non-profit organization to do this Fundraiser?

A: NO. Scratch and Help can be used by anyone (group or individual) who needs to raise money !

Interested in our services? Get in touch with us via the form below and we'll get back to you as soon as possible!

Hovah Seeds




Phone:

706 233-3495




Email:




Mailing Address:

PO Box 286

Wetumpka AL 36092




Hours of Operation

Mon-Fri: 9-5pm eastern

8-4pm central

Sat: 10-4pm eastern

9-3 pm central

Sun: Closed eastern




Hovah Seeds

CEO

ABC Fundraising

Consultant

Millie's Scented Rocks

Co-Owner / Manager

Gee Jones

0

/